High Quality Paint Job in San Antonio
Happy Holidays From Miracle Body and Paint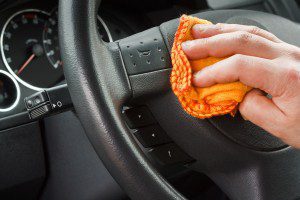 You survived an auto accident, but unfortunately you car was seriously damaged. You sent your car to a collision repair shop in San Antonio and now you have it back, looking better than ever.Miracle Body and Paint in San Antonio, Texas has listed ways you can keep it that way:
During the first month, wash your car by hand. Avoid commercial car washes as they may damage your newly painted car.
Use a soft sponge and mild washing solution to clean your car. Using stiff brush on your newly painted car can spoil the finish.
To care for your car's finish, do not dry wipe your vehicle.
Avoid leaving your car in the sun for too long before and after washing. Opt to wash your vehicle under a shade.
Wait for two months before you wax your car since some car wax interferes with the paint and may cause discoloration.
It will be better to store your car in a garage if you live in an area where there's extreme winter or summer. This is to ensure that your new car paint is well protected from weather-related damage.
During the first month, avoid scraping ice from your car surface since it is still vulnerable. Let the ice melt naturally if it forms on your car.
Avoid gravel roads during the first month as much as possible. This is the period where your car's finish is weak and can be easily chipped by road pebbles.
Clean any bird droppings immediately or the high acidity can damage your car's fresh coat of paint.
Finally, always make sure to have your car serviced in a reputable auto collision repair shop like Miracle Body and Paint in San Antonio. This is because the long-term appearance of your car after it gets repaired in an auto body shop depends on the quality of the paint used as well as the skill of the painter. We use the best tools and hire the best people for our team in order to bring you' the highest quality auto repair service you deserve. To know more about our services, contact Miracle Body and Paint now.