There is a reason why a wheel well is framed by a fender. A fender prevents a rotating tire from hurling sand, rocks, liquids and other road debris into the air. A fender is an important part of the exterior of a car. It is also prone to damage. Fender damage can be classified as one of the three types of damages: minor, moderate and severe.
Minor Fender Damages
The fender damages that can be classified as minor include those that resulted in accidents from everyday activities like door frame dents, shopping cart dings, bad weather and damages made by rocks and pebbles. These damages can easily be repaired and do not require a full paint job.
Moderate Fender Damages
A damage that is not only a slight ding is considered a moderate fender damage. A fender damage as a result of car accidents like bumping into a pole or driving into a small ditch qualifies as moderate.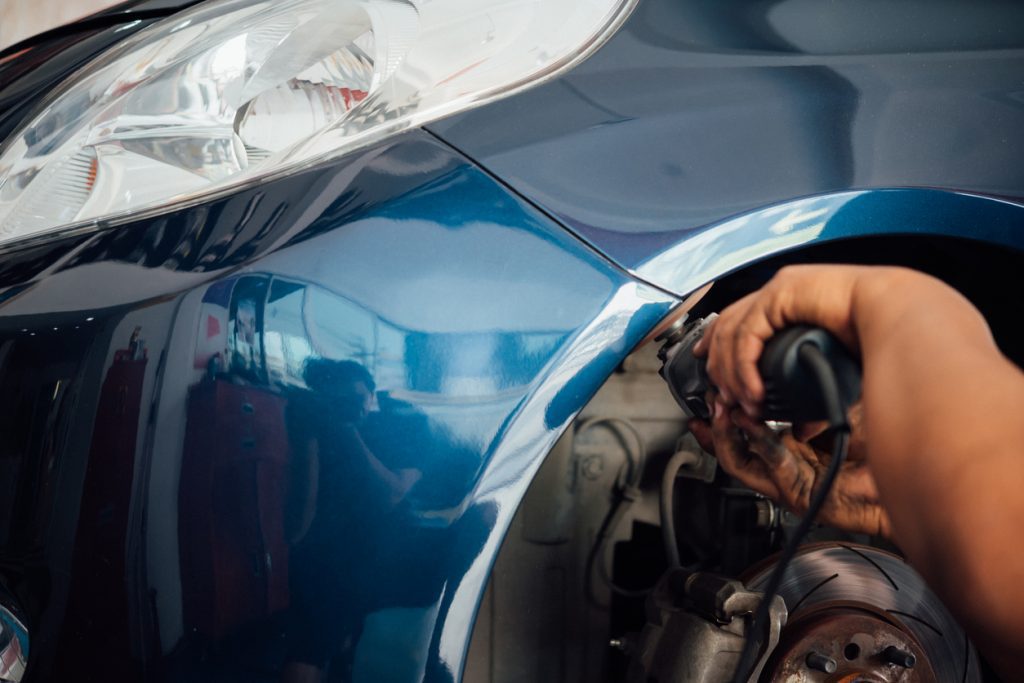 Severe Fender Damages
Major accidents can result in severe fender damages. Damages that qualify as severe usually lead to total replacement of the fender of a car.
Fender Bender
The term 'fender bender' usually refers to a minor damage made to a car caused by an accident. A fender bender leaves little damage on the outside of the vehicle, but the accident could have resulted in damages that are hidden from plain sight. A car could have sustained hidden damages like electrical, alignment and frame and other mechanical damages, according to an article on FreeManCollision.com.
Electrical Damages
A front-end impact, for example, could damage a car beyond the hood or bumper. The electrical system of the car could be jarred because of such accident. Severed or disconnected wires are among the possible problems associated with the electrical mishap. The battery system that is affected by a front-end impact can lead to malfunctioning of power doors, windows or anti-theft system.
Alignment and Frame
A fender bender assessment by a (collision repair) center should also include inspection of the frame underneath the damaged car. A car should always be driving straight, so any pulling to the left or right must be checked for hidden damage.
Other Mechanical Damages
A damaged car should also be checked for problems with the driving systems, including drive shafts and steering and suspension. An expert (paint and bodywork) repair shop like Miracle Body and Paint knows how to properly make a repair assessment. Call Miracle Body and Paint now for more information!