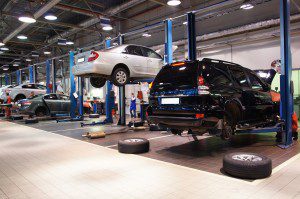 We know that you used your hard earned money when you bought your car, therefore you still deserve top dollar when you finally decide to sell or trade it. Remember that buyers and auto sales companies will pick on your car just so they can save money. Expect a lower offer if your car has windshield chips, upholstery stains, or paint scratches.
In order to get good offers for your car, Miracle Body and Paint in San Antonio, Texas has listed a few things you should check before listing your car for sale.
Fix any active engine and other warning lights
You will instantly lose a buyer if your car has active warning signals. Make sure to go to a reputable auto body shop like Miracle Body and Paint to resolve any issues and error signals. You should also address any problems with power locks, windows, remote starters, and other accessories.
Repair any windshield chips or cracks
Repairing or replacing a damaged windshield is typically inexpensive. Some insurance policies even cover this type of repair. Make sure to have this solved to prevent potential buyers from giving low offers.
Invest in auto body repair
It is always wise to invest in good, high quality auto repair to help guarantee a full price offer and quicker sale. If you've been involved in an auto accident, your car's exterior may have minor dents and scratches. Many buyers would offer lower price to anticipate the cost of repairing these issues. Repairing in advance helps prevent this from happening.
Don't forget interior damage
Address issues like interior upholstery rips, tears, and stains. Some are easily repairable while others need re-upholstery. Have any issues checked by your shop to determine their cost.
Buyers always love a brand-new looking car. To achieve this, make sure to remove any personal items from your trunk, floorboards, seats, and storage compartments.
Taking these steps will ensure a good impression and quicker sale. Contact Miracle Body and Paint in San Antonio, Texas to learn more about how you can maximize your car's value. Our competent staff and experienced technicians are more than happy to assist you.