The Right Kind of Auto Collision Repair in San Antonio
Finding the #1 Auto Repair Shop in San Antonio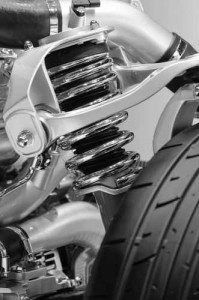 We often take for granted our car's suspension system. Over time, the suspension will eventually wear out from supporting your car's weight year after year. Suspension is not only about having a smooth ride, but it can also affect our ability to control the vehicle especially when stopping and taking a turn. Miracle Body and Paint in San Antonio Texas advises you to include the suspension check up as part of your regular car maintenance.
Your car will usually give out signs when its time to have suspension repair. Here are some things you should watch out for.
Rough rides – many people can tell that their suspension system has worn out when they can already feel every bump in the road or when their car's body begins to "bounce" with every bump. Having a rough ride is one of the most obvious signs of needing suspension work.
Drifting or pulling at turns – if you often feel your car drifting or pulling when you turn, you may have a failing suspension system. It indicates that the shocks can no longer keep the car's body stable against the turn's centrifugal force. This also increases the risk of a rollover. If you notice this type of sensation when turning, make sure to visit an auto repair shop to have your suspension repaired right away.
Dipping or diving when at stops – If you step on your break and you will feel that your car is lurching forward and downward nose-first, this means your shocks are worn out. A bad suspension increases stop time by up to 20 percent and even affects your ability to stop your car quickly.
Uneven tire treads – if you see uneven wearing down your tire treads or if you see any bald spots, this could mean that your suspension is not holding your car evenly anymore. Uneven suspension puts uneven pressure on your tires – therefore causing the uneven treads.
Oily and damaged shocks – Go down and check your shocks or struts directly. If they look oily or greasy, it may mean that there's a leak that can cause it to work improperly.
For expert auto body repair in San Antonio, go to Miracle Body and Paint. We can give you a free estimate on suspension repair or any other auto maintenance needs.